TekSIP - Microsoft Teams Direct Routing
You can deploy TekSIP as an SBC for Microsoft Teams Direct Routing. TekSIP can provide necessary SIP transport interworking, media transcoding and SIP header manipulation functions for Direct Routing. TekSIP SP license required for transport interworking and media transcoding.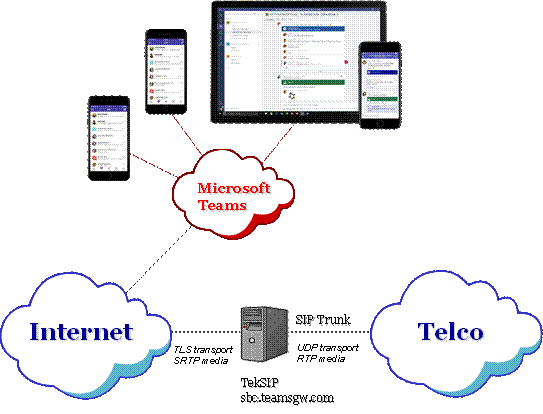 TekSIP Configuration
You must have a server certificate for TekSIP created for an FQDN which is a DNS entry. This FQDN must have a DNS A record points to and IP interface on TekSIP installed machine. Server certificate must be located in Windows Certificate Store / Local Machine / Personal folder. You can create a Certificate Singing Request using TekCERT.
Enter SIP domain as FQDN and set external IP address if your server is behind a NAT gateway. TekSIP will perform necessary NAT traversal functions. You do not need to change other settings.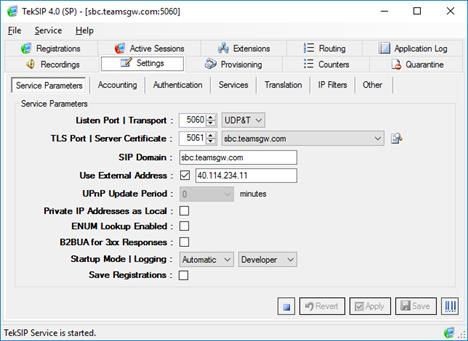 TekSIP Settings / Service Parameters tab
You need to have at least destination profiles in TekSIP. One of them for calls to/from Telco side and the other one for Teams client. Microsoft Teams requires SBC FQDN exists in Contact header of SIP requests. You need to create a translation profile and assign it to the route profile created for Microsoft Teams.
TekSIP Settings / Translation tab
You may need to have extra translation rules in the translation profile for the numbers called to conform numbering plan defined in Microsoft Teams. 00 are cleared at the beginning of dialed numbers in this example.
Route profile for Microsoft Teams
You can adjust SIP OPTIONS period by setting registration timeout parameter. Please not that Media Encryption parameter is enabled and Transport is set to TLS.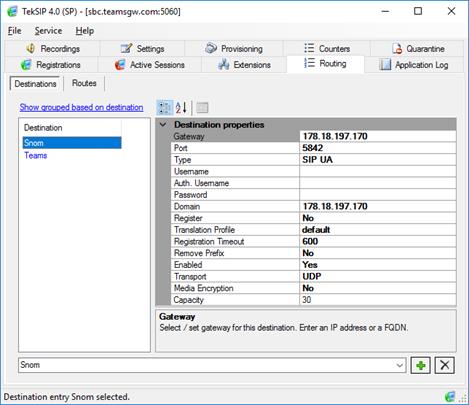 Route profile for Telco side.
Route entries.
You must also enable RTP proxy option at Settings / Services tab.
TekSIP Settings / Services tab
Operation
TekSIP will ping routing destinations using SIP OPTIONS requests in periods specified with Registration Timeout parameter of the routing entry. TekSIP will show routing entry in blue color when it receives responses for OPTIONS requests in timely manner. TekSIP will also reply back to OPTIONS requests received from routing destinations.
TekSIP will forward calls from Microsoft Teams client to Telco and vice versa with necessary protocol and media translation. Active calls can be observed in real time at Active Sessions tab.