WebKilit
WebKilit is a HTTP interface for Windows Firewall (Vista, 7/8/10, 2008-2016 Server) to control Intranet access and URL filter for Internet access. You can authorize remote hosts with WebKilit if you need to access a firewalled server from a host with dynamic IP address. You just need to allow access to WebKilit HTTP interface in Windows firewall.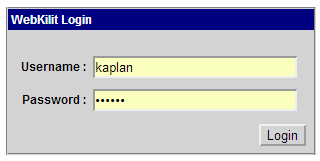 WebKilit HTTP login form
WebKilit will automatically add predefined rules authenticated user in Windows firewall for the IP address the user currently has. WebKilit will remove firewall rules automatically when user's session expires. You can secure login interface using SSL.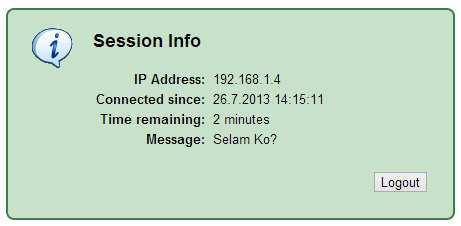 Session information displayed after user login
WebKilit consists of a GUI and a service application. WebKilit has its own built-in HTTP server. You can redirect blacklisted HTTP request to a redirection form;

Customizable redirection message
Features
Simple design and easy to use user interface.
Simple interface for user definitions
Real time monitoring of connected users.
Customizable HTTP interface.
Real time monitoring HTTP connection from local network to the Internet and HTTP access logging.
Support for TZSP (TaZmen Sniffer Protocol).
URL blacklisting. Redirection of blocked URLs.
Blocking files based on their extensions.
Resources