TekSIP - Lync/SFB Proxy
You can deploy TekSIP as a proxy for standard SIP phones to connect to a Microsoft Lync system. Lync supports IP phones only if they support SRTP with SIP TLS transport. TekSIP registers standard SIP phones on behalf of them to a Lync system and maintain their presence status.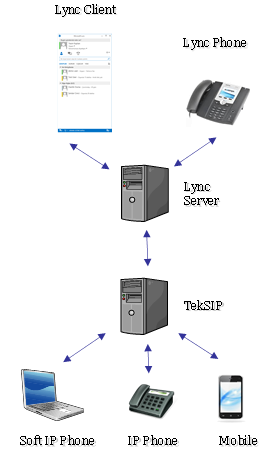 Configuration
You need to create proxy account in TekSIP for every SIP phone to be registered to a Lync system through TekSIP. Configures username and password in TekSIP must be the same the one configured in Lync server. You need to specify Lync SIP domain in TekSIP / Settings / Authentication options. No additional configuration is needed in the Lync system.
Operation
TekSIP will automatically register a SIP phone to Lync when it receive registration request from the SIP phone. TekSIP will also act as a RTP proxy for all RTP traffic for the SIP phones. TekSIP will transcode SRTP traffic. You can optionally record audio if it is enabled in TekSIP settings. SIP phones can make calls to Lync clients and receive calls from Lync clients after the registration. Currently only audio communications is supported.

SIP phones, registered to TekSIP, can call each other locally through TekSIP. TekSIP will update their presence status in Lync even for these local calls. You can route calls to other external destinations, VoIP providers e.g., by defining routes in Routing tab in TekSIP.
Importing Lync Extensions
You can import Lync extensions which will be used by standard IP phones to be registered through TekSIP. A link will be displayed after entering Lync domain right to the Lync domain entry. Please note that TekSIP must be installed on to a domain member server and local Windows user running TekSIP must be in Administrators group for the domain.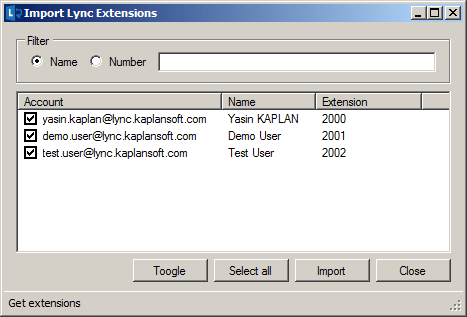 TekSIP will display a window with Lync extensions can be imported when you click Import extensions link. You can select extensions to be imported and click import button. Passwords for selected active directory accounts will be reset according to the domain policy of the active directory. You can browse new passwords in TekSIP Extensions tab.
Special Considerations
Please add ADDomain=<Active Directory> under [Server] section of TekSIP.ini (Under TekSIP application directory) if you observe "Destination URI either not enabled for SIP or does not exist" error in TekSIP log while registering Lync clients or your Lync Domain and Active Directory domain are different. TekSIP service must be stopped and TekSIP Manager must be closed while adding this parameter to TekSIP.ini.

TekSIP is specifically designed to support just SIP Phone registration to a Lync server. If you plan to register ports of a SIP gateway, your SIP gateway must configured to use TCP transport to register its ports to TekSIP.
Microsoft and Lync are registered trademarks of Microsoft Corporation in the United States and other countries.